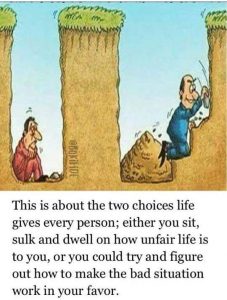 Failure: It is not the end but an opportunity to learn from. It is not the end of a journey but rather a stepping stone on the path. The road to success is through failure…
I suppose I could go on for days with definitions and quotes on what is understood by us as being a failure and our interpretations of it, not that we need any reminder of this; as it was drilled into us at a very young age. And unfortunately, in my perspective of where I sit today, I believe that how we were taught was completely wrong…
In school we were taught not to fail, it was not an option. We had to ensure that we did very little thing correctly to obtain the pass mark. Memorising facts, dates, formulas, scripts of information that was deemed necessary for us to know. To enable us to be a functional workforce, to retain instruction and through this instruct be able to complete a certain layout of tasks… but what if this is not how we are supposed to learn?
Why is it that we actually retain the lessons of life better, once we have actually failed at it once or twice or more and learned from our mistakes?
This is by no means an instruction not to learn from other's mistakes, but surely if we do not learn to fail ourselves – then, well then no-one can learn from us and we would not have anybody to learn from. However, it does not matter from which perspective we look at it, failures and mistakes are necessary in our own lives and in the lives of those around us… but how do we fail forward?
To be honest, this is a statement that has had me puzzled for quite a while during my own life and I have seen it around me in so many others as well… for the fear of failure has become greater than the failure itself and now we are told to fail forward?
Through failing we become failures… or is that been a lie as well?
How do we learn to fail forward?
How do we learn from our mistakes?
How do we put things into a perspective of retaining the lesson but not the hurt or baggage?
This is especially hard for a hard-headed individual like many others and myself included. And you will know who I am talking about when I say … the individual who knows within themselves that the path that has been laid before them is not the path for them, thus to the standard norm (whatever that may be) would consider it a failure to comply. There must be another way, as things just does not seem right; this is not how it is supposed to be. This is not the way "I" am supposed to go, "my" path is down another road.
In the past few years that I have dedicated my life to "self-studies", I have interacted, researched and interviewed several of these "trouble makers", these "outcasts" and purely found their similarities as a result of a deeper investigation of the truth behind their now seen success. Almost every person that was earmarked in my research of well know wealthy/successful individuals are those that went in some way or form on a different path to the norm. And no, I am not referring to the right path or the wrong path … I am talking about a different path, similar to the phrase form a poem referring to the two paths through a wood, and the author took the one least travelled… the unknown.
I am talking about following our own life-path… not just following the herd or the pack. To learn for ourselves and within ourselves our own capabilities, our own weaknesses, our own strengths, our own interest and dislike; for then and only then can we remove the proverbial splinter out of our own eye before we can take the stick out of another's eye. For it is only once we have truly learned the lessons of how to handle and control our own perspective to the physical, mental and emotional impact on ourselves in regard to the situations and circumstance we find ourselves in, and how to step over these obstacles or even exclude them from our path completely. And this is where I remind myself of the statement Dr. John DeMartini made: "Obstacles in our lives are either in our way or on our way" and it is our perspective and response, not a reaction but the response to these obstacles that make the biggest differences in our lives….
If I could use two examples out of my own life:
The first time I went ice-skating and I was knocked down by a professional speed skater – yes it was my mistake that created the situation. Looking back today, in hindsight, it was my humble response and my censer apologies for the situation that provided the flow of opportunities that followed from there and all the hours of joy….
In contrast, it was the stubbornness' of my will to fight the wrongdoings or mistakes that was done towards me, that lead to years of sorrow and pain… From victim mindset to the force of a beast looking for justice and correction – neither of these courses of action providing any ability to move forward.
Unfortunately to many of us, into many different situations, get stuck in example two and through this, we are enduring more suffering and pain than what was originally experienced. We blame ourselves, we blame others, we feel sorry for ourselves, we feel a rage within ourselves to execute our own form of judgement on others… It has the possibility to become a poison that can destroy our life.
BUT what should we do? Just accept it? Lay ourselves down to the mercy of our / their mistake?
At the end of the day, it should actually be both and neither… To truly be able to fail forward, in my perspective, is to balance the censer humble apology with the grace of forgiveness and the understanding from all perspectives of the situation, the mistake, the failure. For it is only in our relinquishing of our ego, in our ability to show mercy to others and in the compassion of taking the time and effort to imagine the failure/mistake from a different viewpoint… that we open ourselves to the true life-lessons on our path. It's not always possible to maintain perfect balance and it is possible not to lose our temper from time to time, even master teachers had been recorded through history to losing it once or twice… however, our aim is to fail forward, to grow through the stumbles and falls to become a better being in this game of humanity called life…
For too many individuals in this category, the following words will ring true from their past: "You do not know better… You are being difficult for no reason … This is the way we have always done it …" and my personal favourite is "… stop making waves and stepping on toes…"! Branded as trouble makers, more often than not, these individuals have pushed aside and left as "outcasts" on the journey of life. And as in all things in life, this could have either a negative or a positive effect on the individual …or both, in which case their lives becomes a total extreme rollercoaster ride of emotions.
Thus, even if we have to place ourselves in a 'time-out' to just take a step back from everything and everybody to review, re-assess, re-align ourselves – then so be it. It is only once we look within ourselves, and understand our own connection between our consciousness, our physical, mental and emotional centres, and our connection with everything else … only then we are ready to master our own life and our perspective of the circumstances that avail in our lives!
May this perspective be a glimmer of light in your life and should you need some free resources to assist you -> click here
With Grace and Gratitude – One is always pleased to be of service to others!
Yvonne E. Ventr – Louw
YEVL (Pty) Ltd.: Founding Director & Principal
Researcher, Advisor, Educator, Coach, Mentor, Keynote Speaker & Host of the Financial Independence Coach show (YouTube)
Personal Thesis: The Psychological impact of past experiences (and rehabilitation thereof) on daily driven financial decisions
Naturally creating Freedom, Meaning & Wealth!
P.S.: Are you interested to find out more about the "Why, What, Where, When and How…" uncovered and discovered in the process of writing the abovementioned thesis? Sign up to our direct mailing list -> CLICK HERE