"Love of Music, of Sunsets and Sea; A liking for the same kind of people; Political opinions that are not radically divergent; A similar stance as we look at the stars and think of the marvellous strangeness of the Universe – These are what build a marriage (relationships). And it is never to be taken for granted."

– Madeleine L'Engle [Two-Part Invention: The Story of a Marriage] 1988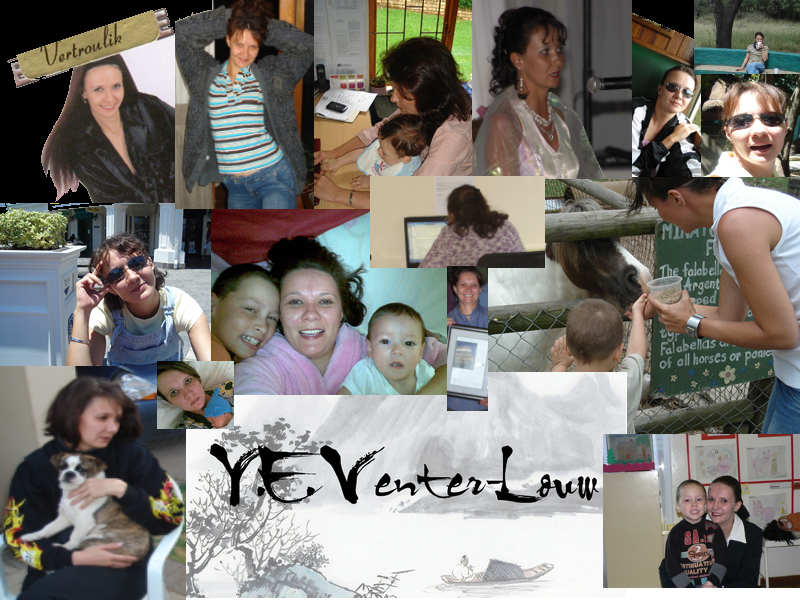 A Financial Professional with several qualifications, however, the Psychological impact and recovery from past experiences is her passion. Being Outspoken: she is a Proud Survivor, a Mother of 3 Home-schooled boys, describe as a Super-Supportive Wife, the 'Best-Friend' who people confesses their most inner troubles to, an Activist for the Prevention and Recovery from Abuse, a Home-based Entrepreneur… Believing that "Dynamic Living" can only be achieved by using our God-given equipment, add to that the Principles of Success multiplied with our own Proper Self-Image.
Yvonne E. Venter – Louw is fiercely committed to guiding, coaching and mentoring those
who are seeking answers,
who are open-minded,
willing to learn,
willing to communicate
and have a commitment to their own achievement …
Providing solutions to old questions and secrets through, new out-the-box thinking, the alternative to the norm advice and guided implementation into their own lives.
In return, these individual(s) will achieve what Wealth, Meaning and Freedom – as describe by their own values, dreams and goals are – into their own lives.
If you are looking for a proven professional who can guide you to address your financial education, your relationships with others, as well as most inner-self; and through the complete process strategically evolve to achieve natural balance holistically… you've come to the right place. With 19 years' experience in the Financial Industry and at the same time, 20 years' experience [and research] in personal prevention and recovery from abuse; working with amazing clients with similar worries and concerns; and guiding them to achieve remarkable success, her mission and commitment is to give her best and most honest self, focusing on serving others at the highest level and assisting as many people as she possibly can to achieve their own highest level of Wealth, Meaning and Freedom at the same time.
Her path to becoming a coach, mentor and advisor became clear at an early age – She always had this passion, no …it's more a deep heart throbbing need to help others who needed it most. As a child, she thought it would be fulfilled by becoming a Trauma doctor / Paramedic, but… with being forced into a financial academic high school career … she held on to that dream … deep heart throbbing … to where today she can honestly state that her years of experience, the qualifications she obtained, years of researching for her own benefit and perfectionistic record keeping of all her mistakes [and what she has learned from them], will provide solutions to those who are finding themselves looking for answers and guidance.
What lights her up about her work is: " knowing that any and all financial decisions there is a psychological background that influences clients decision; once a client is coached and mentored through these, they are finally enabled to reach their own highest level of wealth, meaning and freedom."
What sets her apart from other services providers: "it is my creative approach, innovative thinking, analysing nature of challenging the exciting ways of doing things. Combining the physical aspects of financial advice, with the psychological impact of past experience of an individual client while uplifting their spirituality, provides clients with a lasting, firm new foundation to build their future further on."
You can feel confident engaging with her to guide you and your organisation to solve these problems. Over the years, her experience has been honoured with remarkable and notable accolades, including:
Being promoted 6 times

in two years

with one of South Africa's top four Banking Institutions.
She held the title of one of South Africa's top 10 Exotic Dancers for several years.
Working her way up the corporate ladder: from Apprentice Financial Advisor to Senior Executive Financial Advisor (unofficial assistant branch manager)

in four years

Several Gold and Silver services awards from Insurance Companies
Only individual on record to pass INSETA Accredited Motivational Management & Skills training with a 98%
The only non-management member that was accepted and completed Momentum Leadership of Leaders [mini MBA] through GIBS (Gordon Institute of Business Science – University of Pretoria)
Her perspective has also been featured in Move!Magazine
EDUCATION
Personal Thesis:
2013 ongoing: The Psychological impact of past experiences (and the rehabilitation thereof) on daily financial driven decisions. (Interview, evaluate, record, track, review, and monitoring of candidates]
Nicole Mitchell:
2020 – 2021(current): You vs. You group online session.
Philanthropy University:
2019 Jul to Aug: Human Capital Strategies
Skill Share:
2019 May to June: Presentation Essentials: How to Share Ideas that inspire Action — Simon Sineck
Blair Singer:
2018 ongoing: Webinars, Seminars, Masterclasses & Workshops
Darren Hardy:
2019: Be the Exception.
Carolyn Hansen:
2019: Financial-free; Heal your money energy; Super productivity for entrepreneurs.
Gregg Braden:
2017 ongoing: Webinars, Seminars, Masterclasses & Workshops
Dana Wilde
2018: Activate Accelerated Abundance
Bitrix24 Academy:
2018: Ongoing … Full in-house training – Functionality & Implementation
Allan Pratt:
2018: The Intimate Conversation
Ali Worthington:
2018: Breaking Busy (Short Course)
Ann Wilson:
2018: The Wealth Chef (Short Course)
Barry Mitchell:
2018: Introduction to Sales and Leadership Mastery
Barry Schwartz:
2017: Using our practical wisdom, The paradox of choices & Our loss of wisdom (Short Courses)
Dr. Steve G. Jones (USA):
2017: Certificate in Hypnosis
2018: Certificate in Life Coaching
Udemy:
2018: Zoho App Creator Tutorial Series
2017: Financial Coaching Certificate
2017: A Women's guide to learn New Business Strategy
2017: Work-Life Balance for Overachievers
Mind Valley & Ever Coach:
2019: How to sell with love and integrity & Common Fears of selling – Lindsay Wilson (Short Course)
2019: The 5 Elements of Holistic Coaching – Margaret Moore (Short Course)
2019: The 8 Principles of Exponential Coaching – Rich Litvin (Short Course)
2019: The art and science of coaching – Michael Neill (Short Course)
2019: Coach hundreds of clients every single year & Starter guide to Self-Leadership – Jason Goldberg (Short Course)
2019: Creating Breakthrough transformations with any client, What makes a Great Coach & The 4-level Secret to breakthrough transformation – Christine Hassler (Short Course)
2019: 4 Myths holding you back from starting your coaching business – Ajit Nawalkha (Short Course)
2019: Personal Brand Attraction Blueprint – Marisa Murgatroyd (Short Course)
2019: Coaching for managers to become better coaches – Ajit Nawalkha (Short Course)
2019: The Book of Coaching (Full Course)
2019: How to sell anything – Ajit Nawalkha (Short course)
2019: 10 Brain Hacks to learn Fast – Jim Kwik (Short Course)
2019: Rapid Bio hacks for Exceptional Health – Ben Greenfield (Short Course)
2019: 4 Secrets to Powerful Communication – Lisa Nichols (Short Course)
2019: Design Your Life – Jon & Missy Butcher (Short Course)
2019: Bulletproof for Beginners – Dave Asprey (Short Course)
2018: 5 Days to Mindfulness – Tom Cronin (Short Course)
2018: Bending Reality – Vishen Lakhiani (Short Course)
2018: Developing an unshakable mind – Srikumar Rao (Short Course)
2018: Discover your Life Purpose – Michael Beckwith (Short Course
2018: Embrace your energy body – Jeffrey Allen (Short Course)
2018: How to instantly apply Feng Shui in your life – Marie Diamond (Short Course)
2018: Meditation for Super Performance – Emily Fletcher (Short Course)
2018: Meditation Mastery with Omharmonics (Short Course)
2018: The path towards Self-Awakening – Neal Donald Walsh (Short Course)
2018: Energy Medicine, The secrets of a Master Practitioner – Donna Eden (Short Course)
2018: The 8 Millionaire Blocks – T. Harvey Ecker (Short Course)
2018: Unblocking your Abundance – Christie Marie Sheldon (Short Course)
2017: The Poser of Spiritual Fitness – Jeffery Allen (Short Course)
2017: The Genius Formula – Robin Sharma (Short Course)
2017: The Science of Extraordinary Performance – Steven Kotler (Short Course)
2017: Turn your life into a living masterpiece – Jon Butcher (Short Course)
2017: Unlocking the healing power of your Chakras – Anodea Judith (Short Course)
Marketing Agency:
2018: Online & Social Media Marketing
Niel Mallan
2018: Facebook Marketing
Mel Robbins:
2018: The Secret to Self-motivation
Dr John F. Demartini
2017 ongoing: Webinars, Seminars, Masterclasses & Workshops
Brian Walsh – Real Success Entrepreneurs
2016 ongoing: Webinars, Seminars, Masterclasses & Workshops
Click Bank University
2016 to date: Webinars, Seminars, Masterclasses & Workshops
Hale Dwoskin:
2016: The Sedona Method
Morry Zelcovitch:
2015: How to retrain your brain for change.
Dr Steve G. Jones (USA)
2017: Hypnosis, NLP & Subliminal Therapy
2015: Life Coaching Certificate
Jack Canfield:
2014: Secret to Success
Napoleon Hill Foundation:
2014: Think and grow rich – Webinars, Seminars, Masterclasses & Workshops
Network 21:
2014: Independent Business Owners training course (full year)
Alison Online:
2014 – 2016: Diploma Psychology
Elevating Your Business.com – Maria Marsala
2014: Planning for Growth & Profitability
Iron Shield (Canadian) The Fee Based Financial Planning Mastery
2011 – 2013: FAIS & FICA, Retirement & Tax, Long Term Insurance
GIBS – University of Pretoria
2008 – 2009: Momentum Leadership of Leaders (mini industry related MBA) – Financial Industry Legislation, Competitive strategy, Personal Leadership Plan, People Management, Improving Operational Performance, Customer-centric Mindset, Leadership & Organizational Behavior
Momentum – The Human Capital Engine
2007 – 2008: Transformational Change Agent
Momentum – External Provider
2007: National Certificate – Financial Services Management NQF4
Damelin / Milpark School of Business
2006 – 2008: Certificate Financial Planning NQF5 (Basic Principals of Business Financial Planning, Basic Principals of Personal Financial Planning, Financial Planning – Income Tax, Medical Schemes environments, Law for Financial Planners, Financial Planning Products
Momentum In-house Accreditation
2006 – 2010: Risk Products, Investment Products, Health, Short Term Insurance Personal, Short Term Insurance Commercial, Loyalty Programs, Short Term Deposits, Employee Benefits, Collective Benefits, Trust & Wills
Amsure Marketing & Skills Training (not be confused with Amway MLM)
2006 – 2007: Managers Motivational and Skill Training (Leadership development, Source of Motivation, Planning and setting goals, Building Motivation, Why Salespeople Fail, The Sales Manager's future)
Sage: In-house Accreditations
2005: FAIS & FICA, Retirement & Tax, Long Term Insurance
Amsure Marketing & Skill Training (not be confused with Amway MLM)
2004 – 2005: Sales Training Program (Marketing & Salesmanship, Motivational sales, Prospecting, Obtaining the Interview, Closing)
P.Q Africa / Satellite Networks
2000: Novell Client, Linux & Unix end User, Visio Professional
Damelin / Institute of Bankers
1998: Forex – Economic Environments & Financial Trading, Industrial Psychology 1
ABSA Bank In-House Training
1997 – 1998Windows 95, MS Office 97, Lotus 1-2-3, Turbo Pascal Programming, Q & A, AS400, Swift, Test Keys, Typing, Communication for better Business
Hoёrskool Dinamika
1992 – 1996: Matric/Grade 12/ Senior Certificate NQF4 with distinctions (Afrikaans, English, Mathematics, Economics, Accounting, Computer Science)
F.A.K. Diplomas & Certificates, Provincial Colors Athletics & Sport, Teaching Certificate Ballet
WORK EXPERIENCE
YEVL (Pty) Ltd. – Founding Director and Principal Advisor/Coach
2016 ongoing: Financial Independence Coaching (Researcher, Non FAIS Advice, Education, Coaching, Mentoring, Radio Show Expert & Host, Keynote Speaker)
Independent Financial Advisor
2016 – 2019 Full Function private practice tied to Independent group. [Changing over to Coaching from Planning]
2011 – 2016 Full Function private practice tied to Independent group. [Momentum – Silver Trophy for Production three years consecutive]
Momentum
2009 – 2010 Executive Financial Planner & Sub-branch Coordinator. [Move towards Independent and Impartitial Advice & Planning]
2008 – 2009 Senior Financial Planner [Gold Certificate for Production] & [Only non-manager awarded with the Momentum / Gibbs Industry related MBA]
2008 Financial Planner [Gold Certificate for Production]
2006 – 2007 Junior Financial Planner [Silver Certificate for Production]
SAGE
2006 Junior Financial Planner [Silver Certificate for Production] [Momentum Merger]
2005 – 2006 Apprentice Financial Planner
Independent Brokers Office
2004 Personal Assistant to Independent Broker & Admin office manager [Accepted Position offered at Sage]
Cozen – Temp contracts
2001- 2004 Various short-term admin and accounting assignments all over the greater Johannesburg area. [As per my specification and request to evade my abusive ex-husband, each contract no-longer than three months. Various full-time employment offers]
PAG – Gerling Global
2000 – 2001Life/Risk Administrator [Offer: Permanent position Manager: Admin Life Re-underwriting – declined, abusive ex-husband found out where I was working]
PAG – Persetel Q Data Africa (Networks)
2000 (Four-month contract) Sales Secretary & Assistant
PAG – Allenby Campus Marlboro
2000 (Two months – contract) Student Advisor & Intake Assistant
Professional (Exotic) Dancer
1999 – 2005 Dancing, Teaching, Training, Travelling, Choreography, Bartending & Waitering at entertainment functions [Became a ghost in the system to evade abusive ex-husband]
Key Largo Pub & Grub (Admin & Accounting Clerk -> Co-Owner)
1998 – 1999 Accounting & Admin, Stock control, Sales & Marketing, Staff management, Bartending, Cashier [Gave up Business in an effort to break all contact with abusive ex-husband]
ABSA Bank – Admin Clerk (6 promotion in 24 months)
1997–1998 Test Keys & Telex, Swift, International Dealing room data capture, Corporate Smalls, F.E.C. Second Currencies, Trainee International Trading Floor [Awarded the exchange position with Switzerland Bank … I resigned before effective date]
Alberton Sprite / Sunseeker Gypsy – Shop Assistant
1995 –1996 Floor sales, Office admin, stock receiving and capturing, Switch board, Caravan sales, Admin HP applications, Cashier [Employee of the month three months consecutive]
Joshua Door – Sales Assistant
1992 –1994 Writer/Assistant to Sales Department Head [Top National Sale Writer Award]